Three Inspirational Ideas for Senior Dating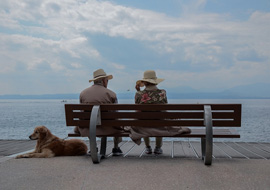 In this day and age, senior citizen dating is a frequent topic of discussion because more and more senior citizens have realized that life becomes more enjoyable, stimulating and fun when love is added to it.
Here are three inspirational ideas for senior dating (which will illuminate your love life):
1. Members of the opposite sex like youthful people, not young people.
This is interesting, because most people associate beauty with youth, but they tend to overlook the fact that the realistic definition of youth is so much more than a young age.
Being youthful is about being active, radiant and passionate. It's not about the date of birth on your passport. Instead, it's a matter of mindset and lifestyle.
Therefore, if you are enthusiastic about your hobbies, full of creativity and wisdom, you are already on the way to become the people magnet that attracts members of the opposite sex. Simply cultivate your youthfulness.
2. Staying ready is more important than you think.
We all understand that before going out for a date, getting ready is so key, so we put on our best clothes and wear our favorite perfume.
What will certainly help you is this: If you stay ready, you don't need to get ready anymore. This may sound bizarre because it sounds like too much effort. However, the truth is - you only need to present the best version of yourself on a daily basis, no matter you are going out for a date or not, as you never know who you will meet today - maybe you'll come across the man/woman who went out with you last Friday night; maybe you'll meet a new potential partner. So the best advice is to stay ready by being presentable and elegant every day.
And the bonus of implementing this idea is: you will feel so good about yourself on a daily basis, because you live your life to the fullest, including taking care of your appearance.
Bonus tip: your clothes don't have to be expensive, but they have to be right and youthful.
3. Senior dating is the perfect activity to enjoy life because your love life is at its least stressful stage now.
You may wonder why dating at your current age is actually much better than dating at 21 years old. In fact, when you were in your 20s or 30s, you were probably thinking about getting married and having children. As a younger person in their 20s or 30s, once starting a family is the goal of dating, a large amount of stress is nearly unavoidable, because their desperation often leads to wrong decisions (e.g. meeting the wrong partner, dealing with a potential divorce, etc.).
Fortunately, right now you are probably not planning on having kids, so you can finally focus on enjoying your life. When it comes to dating, you are relaxed and calm. As a result, you can meet as many people as possible, and choose the right person for you, because you have enough wisdom to know how to savor your love life right now.