Seniors Meet Review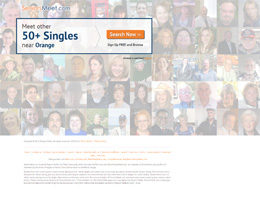 SeniorsMeet is part of People Media's OurTime Community, so it has a huge database - millions of members are in the community. That means once you start a profile on SeniorsMeet, your profile will be seen by many more members online, thereby increasing your chance to be successful in your love life. SeniorsMeet has served mature singles for more than one decade and the site has many up-to-date features: send messages, send flirts, chat online, and so forth. Therefore, SeniorsMeet knows how to facilitate senior dating and using its service is worthwhile.
Pricing
The most attractive thing about seniors meet.com is that it offers basic membership for free enabling users to get a rough idea of what the site entails. The website is further expanded to premium and gold membership which offers different features to the various users. The subscriptions are divided into three different categories which include a one month membership valued at $29.99, a six month membership plan estimated to be worth $14.99 a month and finally the six month membership with a highlighted profile billed at $16.99 a month. These prices are not fixed and are therefore subject to review by the website at any point in time. You should therefore be sure to confirm the billings before you sign up or upgrade to the various premium plans.
Features
Senorsmeet.com has numerous and fun features that let you send your birthday cards and wishes to your preferred friends.at the same time offering you innovative birthday cards to surprise our friends.
You have the ability to verify your profile in numerous ways. You can verify your photos, profession and even age. By doing so, you get higher probabilities and chances of finding yourself the right partner with the ability to differentiate who is real and authentic from those who are not and just playing scam.
Forum posting: You can easily lay down your views and ideas in form of a blog post and even post new topics at the same time comment existing topics and discussions with seniorsmeet.com. This is a great feature as it allows you to interact with many members at the same time and learning new things about others from the posts.
Profile and photos: You are able to browse through photos of other users just to get a picture view of how your potential partners look like. After doing so, you will be able to send greeting cards to the other memcompany bers.
Seniorsmeeet.com offers daily and timely updates. You can therefore get to read daily dating news, stories of successful individuals who found their dates from sineiormeet.com and even get to read on dating tips from other registered members.
Pros and cons
Seniors meet.com contains a self-verification feature that enables and gives you the opportunity to verify your identity, age and profession thereby easy to distinguish between real and authentic users from online scammers. You would always be up to date with the current trending topics of discussion at the same time gain from other user's experiences. This site is not associated with much anxiety when meeting for the first time because of the ability to browse through photos on other people's profiles.Other than sharing birthday and greeting cards, there are no more features to explore.
Privacy policy
With stringent and tough measures being incorporated with seniorsmeet.com, it ensures that our personal details are not leaked to any third party individuals. The site therefore takes your privacy seriously. As a user you should therefore feel safe with saving your credentials during sign up.
Editor's verdict
Seniorsmeet.com is very easy and simple to navigate and operate. From the very first step which is registering to the site, creating your profile and searching for other like-minded singles has never been this fun with the ability to send birthday and greeting card. With the privacy policy put in place by the site, feel free to log in at any time and have fun in your adventurous search for a partner.