Over 50 Date Review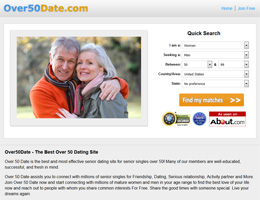 Over50Date is an online dating community for singles who are 50 and older. Every day there are hundreds of thousands of senior singles looking for romance on this senior dating site. Unlike other dating services which require you to spend hours filling in endless forms, Over50Date's registration process is quite simple. Once you are registered in the system, you can start to look for love immediately. As this site has all the functions that you need, you will find it very user-friendly and effective in general.
Overview
Because Over50Date.com has cooperated with SeniorMatch.com which is one of the world's biggest senior dating platforms for years, Over50Date.com has a huge database in which millions of senior singles are looking for relationships online. Over50Date.com is a safe and popular senior dating website for singles over the age of 50, as evidenced by the news on CNN, MSN, AOL, and so on. Clearly, that means Over50Date.com ranks very high among many senior dating sites.
Pricing
Free for standard members, however, to access all features of the site, a gold membership is required as follows:
1 month: $29.94 per month
3 months: $19.95 per month
6 months: $15.95 per month
12 months: $11.95 per month
Payment methods: debit cards, credit cards, PayPal, bank cheques and money orders.
Features
Search: Search for other users online by age, location, gender, appearance, who has viewed you, who is interested in you and key words.
Chat: Talk with other users via its online chat service.
Email: Send emails to other members that you are interested in and receive emails as well.
Blogs and forums: Communicate with other members on forums and visit other members' blogs.
Winks: Flirt with other users by sending free winks online.
Dating advice: Articles about dating advice and safety tips are available.
Daily 50+ news: Every day there is news that is specifically designed for senior singles.
Navigation support: There is a Frequently Asked Questions section where you can find information about how to use this online dating service effectively.
Privacy protection: This site protects members' privacy very well. Nobody would know who you are unless you tell them.
Profile with photos: It's free to create a profile and upload photos to get started.
Pros
Strict administration to ensure safety and credibility of members - Over50Date.com requires new users to fill out certain forms in order to start online dating. Those who fail to complete this information completely may not be able to activate their accounts. At the same time, Over50Date.com doesn't ask you to tell them your real name, so your privacy is protected until you tell other members who you are.
You can upload 27 photos - This is the largest number of photos that you can upload on any online dating site. Hence, you will be able to display yourself clearly, and you can see other members clearly before you meet them in person.
The ability to block certain members - If someone contacts you frequently and you are not interested in them, you can easily block them, which means you can hide your profile from them so that they can't see you online anymore.
It is very easy to use – In order to make sure all senior singles can use this service efficiently, Over50Date.com has a user-friendly interface which supports members online and ensures a great dating experience on this platform.
Cons
Not everyone on Over50Date.com is looking for a serious long-term relationship - Some people use this site to look for casual relationships or pen pals, so if you are looking for a long-term meaningful relationship, this site may be limited.
Users' comments
"This is a brilliant senior dating site for sophisticated and mature people! I have been using this site for two months, and now I'm already dating a great guy! Outstanding experience!" (Kerry, New York)
"Michelle and I met each other on Over50Date.com, and now we are going to get married next month. I'm very grateful for this dating service that brought Michelle to my life." (Joe, Los Angeles)
Summary
Over50Date.com is a popular senior dating site which gives senior singles the options of looking for long-term relationships, casual relationships, pen pals or friends. As it has large fonts on its webpages, this site is very easy to use for senior singles. This dating site is exclusively for senior citizens, so you don't need to worry about being contacted by younger people who might not be serious enough.