Match Review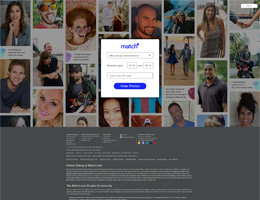 Match is a very popular dating site in the senior dating niche with a huge membership base. Serving people over 24 countries, the website can be accessed in 15 different languages. Being one of the oldest and largest dating website, Match has positioned itself as the leading site for finding best matches online. There are numerous features offered by this site. One unique feature is fraud prevention. Any suspicious profile or activity is being monitored and not many dating websites offer this service. You can never go wrong with this site!
Membership: Basic or Subscriber
As with most dating sites, to enjoy all the features such as initiating emails to other members or using the advanced search function, it's necessary to upgrade to be a subscribing member.
What Does the Membership Include?
Match.com has a very attractive layout with photos of available singles prominently displayed, easy-to-use search features and several advice columns. It features newsletters on offer to help users and members get the most out of their dates.
The site has many unique features but does not have instant chat or messaging feature. Here are a few features:
Match.com partners with personal ad sites in several countries so that international users can find their perfect match either in the US or anywhere across the globe.
The way users search for matches can be customized. In this way, they can find effective and better matches with the help on an advanced algorithm the website uses for searching.
The users can mail or contact their matches via the messaging service provided by Match.com. This lets the users protect their identities until they themselves want to share the details.
The staff at Match.com manually checks and verifies every single profile and photos uploaded, before the profile goes live. This is to ensure all information on the site is valid and accurate.
Information about themselves for potential matches can be posted.
MatchWords allows users to classify a list of words that other users can use, to search and find them. It's possible to get a record of the recently added and commonly used MatchWords.
Match.com Platinum members can use a personalized, professional matchmaker if they don't get time to look through other photographs.
MindFindBind is for people who need help with dating online - Dr. Phil's Match.com monthly program would help users on how to date, tips to find someone who would match, and on the ways to bond/bind with the partners.
Membership Costs
Currently, monthly pricing ranges from $16.99 - 23.99 with some additional costs for some of the unique features of the site and Match.com accepts Visa, Mastercard, and also PayPal as other payment methods.
It's important to read the terms and conditions before giving the site your credit card details, as it is a normal practice to bill automatically for another month (or whichever package you chose previously) once your initial service period has ended.
Conclusion
Match.com is one of the most popular dating sites and has a host of features to help members achieve their goal of finding their perfect match. It an easy to use site, with an active membership base-ideal for those serious about dating.
However, for those with specific needs with regards to age or with alternative dating lifestyles, a more niche dating site may be better, or at least one that allows a better choice of definitive markers.