Senior Dating Can Rejuvenate Your Outlook on Life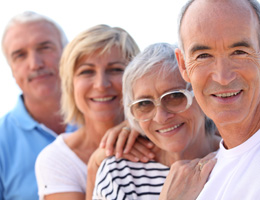 For many senior people, when they consider starting dating again, it may have been a number of years since they last dated.
If a senior has been in a long term marriage or a partnership which has now ended, for whatever reason, and they find themselves single again it can be a challenge to get motivated to look for a new partner.
However, sometimes starting to date again when a senior can also help rejuvenate your outlook on life or give you a fresh perspective about things which you wish to undertake or accomplish. A new partner can be a big positive.
Even though some of the rules of dating may have changed dramatically since the senior last dated, the basics are still the same whether it's senior dating or regular-age dating - with perhaps the key difference being the ease by which a new partner can be found, thanks to the easy access to other senior daters which specialised dating sites can bring.
So, for the senior dater looking to restart his/her life, here are some key dating tips to remember:
As mentioned, finding a potential partner is, nowadays, far easier with the advent of numerous specialised senior dating sites. By using such a site, seniors are no longer only limited to meeting other senior people in person or hoping to accidentally meet someone in their home neighbourhood.
Senior dating sites, typically, offer the opportunity to meet a wide variety of other seniors looking to date within the seniors home country - or even overseas
Obviously, for seniors looking to use such a dating site, it will be necessary to be computer literate - at least being able to join and log-on to a site and be comfortable in finding their way around it. To be fair, most such senior dating sites are relatively straightforward to access and use, making it as easy as possible to find potential matches
Good advice to senior daters is: always try to look your best! Present well and dress smartly, as first impressions often count for the most. Of course, it's not necessary to be dressed in the latest, up-to-the-minute fashions but being smartly dressed and well groomed always counts
Whilst, in older days, public displays of affection to each other were not encouraged and the dating procedures far more formal, society as a whole is far more liberal than it was when you first dated. Don't be too surprised if relationships develop quicker than they did when seniors were younger!
Some extra patience may be need when senior start to date again, partly in view of the worldly experience the two parties have, and the fact that senior dating may be relatively new to both of them!
However, in many ways, senior relationships are just like all human relationships - and there will be good times and bad. It's often the case, though that senior dating can give both participants a new lease on life!